Finger Lakes House Styles
Visitors are often struck by the wide variety of housing styles, sizes, and prices within most neighborhoods in Ithaca and Tompkins County. There are a few planned developments in each town, but more often houses ranging from Greek Revival to Craftsman to ranch co-exist happily.
There are no 18th-century houses that I know of in Ithaca or Tompkins County, probably none older than 1810. The oldest houses here are Federal and Greek Revival, which can be found scattered around the county with particular concentrations in old hamlets, like Forest Home,
Ludlowville, Jacksonville, and Etna. Most early houses sit quite close to the road and many of these roads are by now quite busy. If you dream of a quiet, secluded Greek Revival, you may have to move the house!
Federal style houses (called Georgian in many parts of the country) are symmetrical, with a central door and double-hung, multipaned windows. Greek Revival houses were
inspired by classical civilization and by Americans' fascination with the Greek revolution of the 1820s. Some Greek Revival homes look like little temples with Doric or Ionic columns, while others merely suggest this style, featuring pilasters or a wide plain band just under the roof (representing the classical entablature). The distinctive front doors usually have narrow sidelights and a rectangular transom.
Italianate houses were inspired by Tuscan villas. In and near Ithaca Italianates usually have a very simple form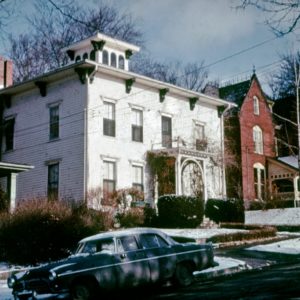 and are distinguished by hipped roofs with a very shallow pitch, a symmetrical facade, and decorative dentils and brackets at the roof line. Many have cupolas. Further north in Cayuga County, there are many brick examples of Italianates with columned porches, arched or round windows, and ornate cornices.
Gothic Revival houses echo Medieval rather than classical styles. In America they were made popular by the architect Andrew Jackson Downing, especially after the publication of CottageResidences in 1842. In our area they are found both in city
village and rural settings. They feature picturesque rooflines, steep gables, pointed or arched windows, and decorative window moldings and drip moldings.
Queen Victoria ruled for a long time (1837-1901) and the Victorian period spans many substyles that flourished in the latter 1800s. This post-Civil War period was an age of growing wealth, urbanization, and technological advance. In New York, construction and ornamentation in wood became more popular than ever with the opening of the Adirondack Mountains to timber harvesters.
Victorian houses can be found all over Tompkins County but they are concentrated in the City of Ithaca and in villages. Ithaca itself has far fewer grand Victorians than its sister cities of Cortland and Auburn; many East Hill Victorians were lost to Cornell's expansion, and others were divided up and rented to students.
Two examples of local Victorian houses are pictured here, both showing an asymmetrical plan, extensive use of standardized lumber, abundant trim, and porches. The second example is a specific subtype, Queen Anne, that is often distinguished by towers, a variety of claddings, stained glass windows, and wraparound porches. Queen Anne was the last Stuart monarch (1702-1714) and I have no idea why the style was named after her.
The Craftsman style (called Bungalow in many parts of the country), Colonial Revival, and Tudor styles (1900-1940) prevail in Cayuga Heights, Cornell Heights, Belle Sherman, Cascadilla Park, parts of South Hill, and Renwick, although they can be found in all the towns and villages. Their distribution reflects developments in transportation during this period. For example in the City of Ithaca, the Ithaca Street Railway system made possible the development of neighborhoods like Bryant Park.
Craftsman houses in Central New York were strongly influenced by the theories and writings of Gustav Stickley in nearby Syracuse, who in turn was inspired by the English Arts and Crafts movement. Craftsman houses are usually 1.5 or two stories tall, clad in wood or stucco,and are notable for their low-pitched roofs with wide eaves and exposed rafters, and porches with thick columns. The interiors are open with many windows, built-ins, often beamed ceilings, almost always a fireplace, and an abundance of chestnut woodwork. (Their popularity coincided with the occurrence of American chestnut blight in Upstate New York.)
The Colonial Revival prevailed for decades in the United States, from about the time of the American Centennial in 1876 through the 1950s. In the Ithaca area its popularity coincides with that of the Craftsman style, and they are often hard to tell apart. Colonials have a symmetrical facade, are two or three stories tall, usually clad in wood clapboards, have dormers and multi-paned double-hung windows. Usually the interior woodwork is painted white, and in our area many Colonials have built-in corner cupboards in the dining room.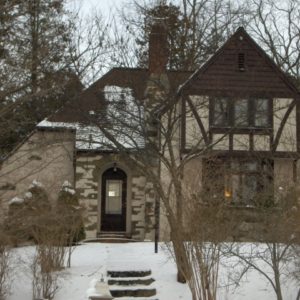 Tudor Revivals feature steep roofs with cross gables, double-hung, multi-light windows, and in some cases decorative half-timbering. There are large, elaborate examples in Cayuga Heights, and simpler examples in the South Hill and Belle Sherman neighborhoods.
In mid century two new styles emerged to accommodate a pressing need for new housing as GIs returned from war and the economy boomed. These styles–the Cape Cod and ranch–were easy to build and well-suited to mass production techniques. They lack ornamentation but are well-built and usually have hardwood floors.
The twentieth-century Cape Cod was based on colonial-era models, and everything about it is designed to withstand a harsh climate. Cape Cods are small scale, (1.5 stories) and low to the ground, with steep pitched roofs and small or no roof overhangs so winds can do less damage. They are clad in wooden shingles or clapboards. The floorplans usually include two small bedrooms on the first floor. They were often sold with unfinished attics, the idea being that families could expand into the upper story as they could afford it.
The ranch style has maintained its popularity since World War II and can be found in city/village and rural settings. Ranches are single-story with low-pitched roofs and deep eaves. They are notable for picture windows, sliding doors to an outside patio or deck, simple floorplans, and lack of decoration. Many newer ranches are of modular construction.
A "raised ranch" is just that: a two-story ranch house with a full lower story at ground level or partially below grade. From the main entrance there is a full flight of stairs up to the main level, or a half-flight up and half-flight down from the entry landing. There is typically an attached garage. In the Ithaca area the lower level often has a family room and full bath, or a small apartment.
Split-level homes have three or four "half-floors" separated by short flights of stairs. They feature very flexible floorplans and, like raised ranches, can easily accommodate a second living unit. Split-levels have low-pitched roofs with deep eaves, and the upper story is usually cantilevered over the lower story at the front of the house, providing a little more living space.
Cape Cods, ranches, and split levels are found all over the county, both in rural areas and in villages, and on West Hill in the City of Ithaca. Most were built between the end of World War II and 1980.
Contemporary houses were also built during these years but are not as common, and tend to be located in Cayuga Heights and Ellis Hollow. Their exteriors emphasize natural materials and harmony with the natural setting. The interiors emphasize light and openness. Early contemporaries are usually single-story, with flat roofs and horizontal bands of windows. Later examples include large multi-story homes, but there is always an emphasis on setting, openness, and light.
I can't decide what to call houses styles of the late twentieth century and the twenty-first. Some of the terms I have seen are neo-eclectic, neo-traditional, and Postmodern (in that it ignores context). Whatever we call this style, it indicates a reaction against the lack of ornamentation in contemporary houses, and a desire, once again, to revive earlier fashions. Neo-eclectics do not imitate earlier styles but borrow freely from all of them, using a mixture of textures, cultures, and decorations in any one home. They frequently use modern materials, such as vinyl and imitation stone. The interiors still emphasize openness and light.